Eat on the campsite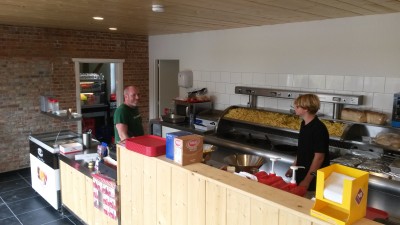 On the campsite you can get a good scoop of fries from our snackbar. During the season the snackbar will be open on Wednesday from 12.00 - 18.00 and Friday, Saturday and Sunday from 12.00 - 19.00. During holidays the snackbar is opened more frequent.
So after a wonderful long day at the beach you don't have to prepare dinner yourself but you can just relax and sit down in front of your tent with a good meal!
The Vijf Weeghen in Nieuwvliet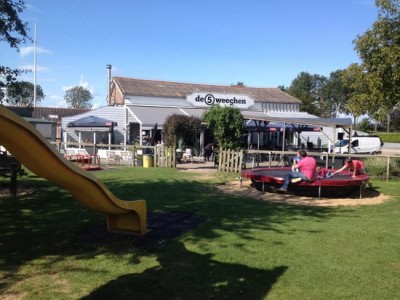 At walking distance from the campsite! This restaurant provides a big terrace and a big playground which makes it very popular for families with children. Inside you'll find a play corner for kids too. The menu is very extensive and offers something for everybody. From pancakes to steaks, fish pot to mussels, you'll find it here. Casual and cosy.
Groede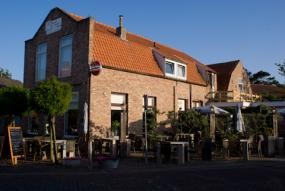 In Groede you'll find 'Het Overleg', a very casual eatery with a superb price-quality ratio. You'll be swept away by the food you'll get when ordering 'pannetje van de dag' (pot of the day). Marleen eats here regularly!
Are you keen on having a special beer? Then consider going to 'Drie Koningen' for an evening. It is situated on the Groede market. In their at home brewery the special beers Melchior, Caspar and Balthasar are brewn, which by the way are being used in several dishes on the menu. Advice: do not underestimate these special beers and make sure you don't have to drive anywhere!
For true culinary food arts you could try 'Etablissement' 1880. a posh restaurant also situated on Groede market. They use local and seasonal products they enjoy transforming for you into true culinary artwork. Let them surprise you with the surprise menu choosing from fish, meat or vegetarian!
Beach pavilions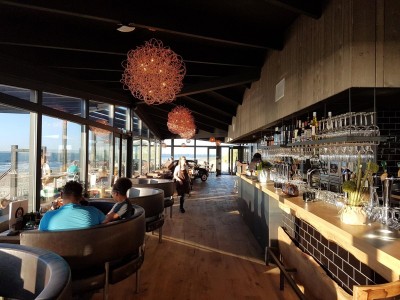 At the beach you'll find several beach pavilions of course. And what can be more beautiful than dining with a view of the sea? Of the beach pavilions in Nieuwvliet/Groede, 'de Strandganger' and 'Dok 14' are the best in our opinion. In Cadzand you'll find 'Moio' where they'll surprise you with their food and you can join in on several sports activities.
Breskens

Breskens is a fishing village and you're bound to notice this in the restaurants. In the harbour it'll be great fun having 'kibbeling', a 'lekkerbekje' or real Dutch herring. You can go to 'Erasmus' or 'De Dukdalf' for example, close to the fish auction.
It'll be beautiful dining at restaurant 'J & B' in the centre of the village.
At the renovated Spuiplein, close to the harbour and the beach sits 'Brasserie A-muse'. We think calling it a brasserie is too modest, for we think it's a real restaurant! They serve fish straight from the harbour there and they use seasonal products.
Sluis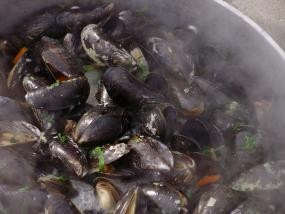 Sluis is a small town with numerous restaurants. Mussels are its specialty, but of course there is plenty of choice for everybody. Besides that it would be fun to have a meal at 'De Wereldkeuken' in Toversluis especially when bringing the kids. Eating out in this quality restaurant can be combined with the indoor playground or bowling.
Café and restaurant Kaai 10 is popular aswell among the locals as the tourists for a drink or a snack. Also at restaurant Barsa, in front of restaurant Kaai, you can get a nice meal.
Oostburg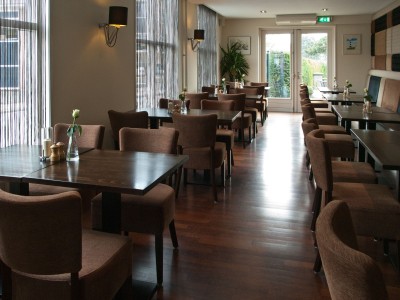 'Het stadhuis' in Oostburg is a good recommendation for people who would like to go out and spend an evening out. Here you can sit at the table and enjoy a bottle of wine. Our personal recommendation would be the beautiful fish dish; you will be flabbergasted!
New in Oostburg is 'restaurant 't Is Boven'! 'T Is Boven distinguishes itself from other restaurants by combining the Spanish cuisine with the wellknown Zeelandic hospitality. You can even choose your meal by combining all sorts of yummy smaller dishes.
Do you want to book for a period longer than 3 weeks? Contact in that case the camping itself directly by phone or email.