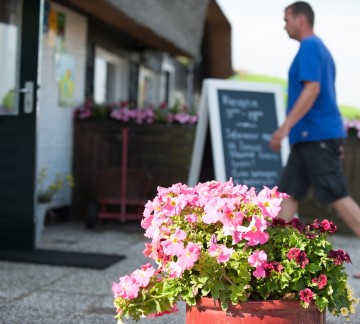 Arriving at the campsite you'll be either welcomed with pleasure by Marleen or Femke!
You can come and see us with all your questions or remarks. At reception you can also buy ice creams if the cafeteria is closed, rent bikes and pick up the key of our tennis court. Of course we provide a great variety of leaflets with information about what's on in the surrounding area and we can give you some advice should you hesitate where to go to.
The opening hours of reception are from 9 am to 12 pm and from 1 pm to 5 pm during the pre-season and from 9 am to 12 pm and from 1 pm to 4 pm during the late season. During the holidays and the peak season we have extended opening hours. During the winter (until 26.03.2021) the reception is closed.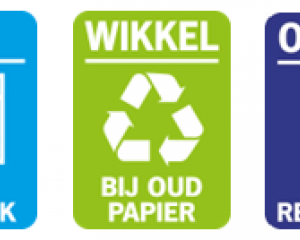 On the campsite we provide a small recycling unit where you can hand in your separated rubbish. We provide separate containers for glass, paper, plastic and residual waste during the whole season. During the off season we provide a container just for green rubbish. This one is taken away during July and August because of the smell. Oostburg provides a recycling station for all other rubbish and big rubbish. Empty batteries you can hand in at the reception.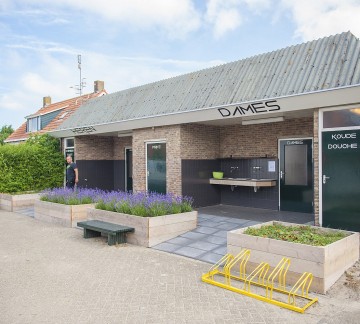 Our sanitary block is situated next to reception and remains open 24/7. Here you'll find ladies' and gents' toilets and showers. Both areas provide a kids' toilet. The dishwashing facilities are situated outside under the awning.
Unfortunately the block is not accessible for disabled. We clean the sanitary block every day and during the peak season several times a day. Thus you're guaranteed a hygienic area. Should something be not in order, please let us know.
Our luxury comfort pitches provide private sanitary facilities on the pitch. Now that is luxury! Your own unit provides a shower, a washing basin and a toilet. Our units on places 99 till 104 even provide a private dishwashing facility.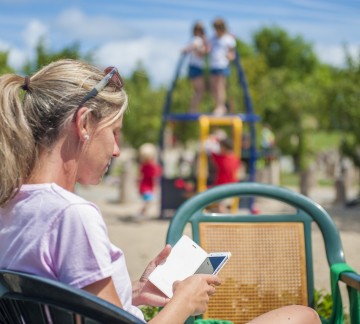 WIFI can be used freely and you can access with more than one device. We have an open network for which you don't need a password. You can just select the network and make use of our wifi system. The network is so good that you are able to watch movies, download big files etcetera, just what you feel like! And it is for free.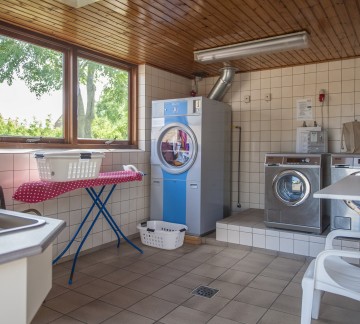 Campsite International provides two easy to use washing machines, a dryer and a possibility for ironing.
The washing machines provide several washing programmes, but all washing programmes take about 45 minutes. We also provide hand washing facilities. The dryer works with coins that cost EUR 2,00, a usual washing should be dry with one cone and takes around 35 minutes. We also provide an iron working on coins. A coin costs EUR 0,50 and will give you a quarter of an hour of ironing. Coins can be obtained at the reception.
The launderette is open 24/7.
.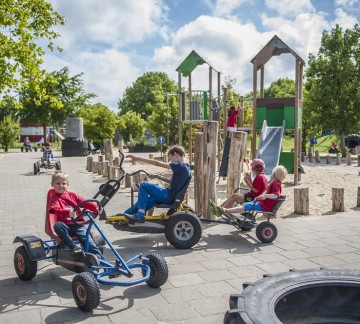 Playfarm Pierewiet is part of campsite International and you'll find it on the campsite. Outside is a large playgarden with a go-kart area, an airtrampoline, a flying fox, a trampoline and a real lighthouse in which you can climb to the top. Should a rain shower occur? No problem: in the big farm shed is a huge climb and clatter tower providing all kinds of obstructions.
And should you really want to do something indoors for a longer time: go have fun in the technique attic. Here you can use a coping saw, engrave, cut styrofoam and more exciting things you won't be able to do at school. You can take all these craftwork pieces home of course. This way you'll have a nice holiday souvenir as well.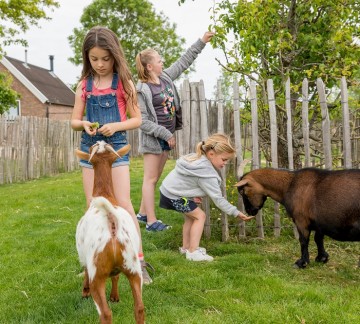 Do you like animals? Campsite International provides an animal meadow with chickens, guinea pigs, billy goats, a pony and a donkey, sheep, rabbits and two pot-bellied-pigs. From 09:00 until 16:00 the kid's animal farm is opened and you are able to cuddle your favourite animal.
We ask you not to feed the animals any bread at all. The intention might be nice but they will get very sick from it. Instead, you can give them carrots, apples or lettuce!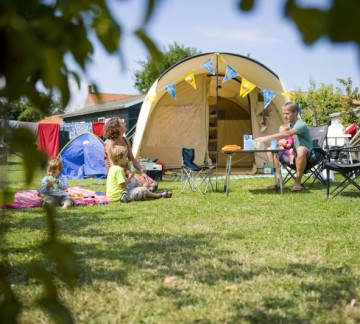 A part of our camping pitches are provided with 6 amperes electricity and another part of our pitches with 10 amperes. The comfort pitches that have 10 ampere are 8 until 11, 21, 22, 23, 26 until 31, 36 until 41, 46, 47, 48 and 81 until 98. The luxury comfort pitches that have 10 ampere are 6, 7, 12 until 20, 24, 25, 32 until 35, 42 until 45 and 99 until 104.
There is WIFI reception on the whole campsite. All our comfort- luxury comfort and camper van pitches do provide a television cable connection and a fresh water (grey water) point on the pitch.
Do you want to book for a period longer than 3 weeks? Contact in that case the camping itself directly by phone or email.