Playground Pierewiet is situated on the camping. When you are on our camping during your holidays, your children are allowed to play in Pierewiet for free. Pierewiet is a real playing paradise for children. There is an outdoor and an indoor playground, and for when the weahter is not as good as you had hoped for, there is an indoor area where children can make handicrafts.

Opening hours
The outdoor playground is open during the preseason and the end of the season from 9 am until 7.30 pm. During the summerholidays the outdoor playground is open from 9 am until 9 pm.
The indoor playground is open during the season in the afternoon on Wednesday, Friday, Saturday and Sunday.
During the holidays the indoor playground is open more frequent:
Eastern (6 until 19 April): open each day from 11 am - 6 pm, except the Tuesday.
May holidays (25 April until 3 May): open each day from 11 am - 6 pm, except the Tuesday.
Ascension (21 until 24 May): open each day from 11 am - 6 pm.
Pentecost (30 May until 1 June): open each day from 11 am - 6 pm.
Summer holidays ( 1 July until 31 August): open each day from 11 am - 7 pm.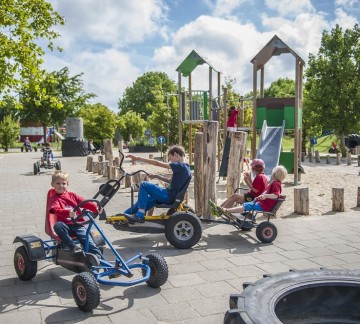 At Playfarm Pierewiet belongs a large outdoor playground with go-kart course (popular with young kids and uhm...dads), an airtrampoline, several play equipment, a flying fox, a trampoline and a real lighthouse to climb straight to the top. The playground is situated in an old pear orchard. When the pear trees are green ( and blossoming during spring) it even has a better vibe.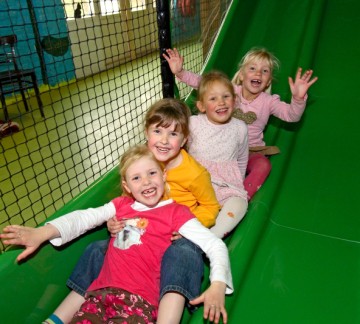 Well..that's what happens in the Netherlands...we do have showers of rain. No problem! At Pierewiet you just continue playing in the indoor playground. For in the old farm shed a mega climb and clatter tower was built. Easily fitting 60 kids! Have you found your way up to the top, you can wave at Mum and Dad.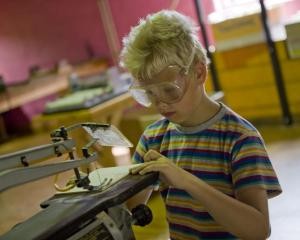 At Campsite International in Nieuwvliet we provide something you won't find on any other Ardoer campsite: a real technique attic, where you can use a coping saw, cut styrofoam and beat a name badge and paint. Now that is something different from the usual craftwork! Because the materials we use in the technique attic are quite expensive, this is the only acitivity we ask a contribution for. (EUR 3,50 per person). But you'll be busy for quite some time. Great fun should the weather be less beautiful!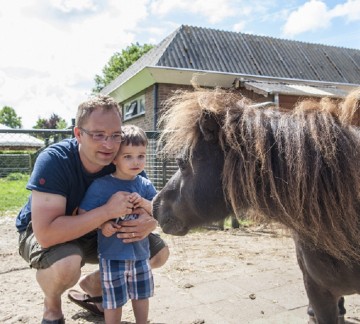 Do you like animals? Campsite International provides an animal meadow with chickens, guinea pigs, billy goats, a pony and a donkey, sheep, rabbits and two pot-bellied-pigs. From 09:00 until 16:00 the kid's animal farm is opened and you are able to cuddle your favourite animal.
We ask you not to feed the animals any bread at all. The intention might be nice but they will get very sick from it. Instead, you can give them carrots, apples or lettuce!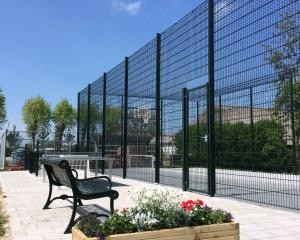 Since 2016 we provide a panna cage. It proves to be a great success. Young and old use it with great enthusiasm. Next to the panna cage is a table tennis table where competitions might be going on till late during the summer.
We have a big panna cage and a smaller one. The smaller one is meant for the youngest players of the camping or if you'd like to play one against one.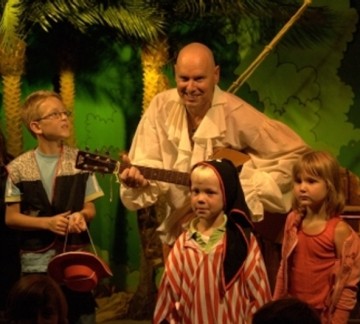 Many kids already know: during the summer holidays you have to go to Pierewiet on a Thursday night. For Ferini performs a different kids' show every summer. This kids' theatre is enjoyable, educational and of course great fun!
Some children can even participate in his acts. But you'll have to put up your finger very high. Entry to the kids' theatre is EUR 6,00 for anyone entering. This is including the entry fee for both indoor and outdoor playground from 4 pm.
During these nights it is possible to order something on the terrace from the Cafeteria, so you won't be going to the theatre on an empty stomach.
Booking a ticket is strongly advised for these Thursdays are often fully booked in advance. And full=full. Space allowing only 50 people.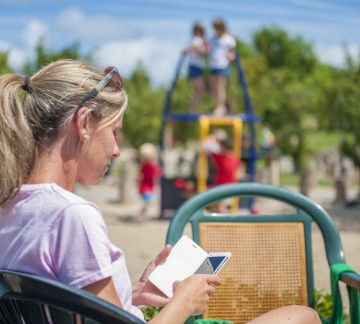 Of course it is possible to have a drink or a bite to eat in our playfarm. While the kids are having fun, you can enjoy a delicious cappuccino with a piece of hot apple cake. Inside you'll find tables and outside a terrace. So enjoy the sun while the kids ride their go-karts.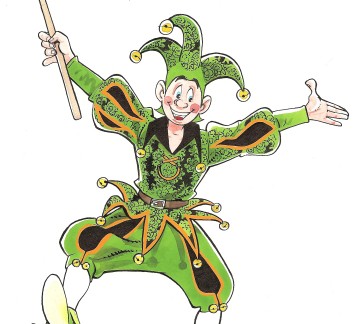 Kierewiet is completely crazy and really likes it to participate in amazing games. Kierewiet regularly hangs around on the camping and likes to join with the activities of the animation.
Did you already see him?!
Do you want to book for a period longer than 3 weeks? Contact in that case the camping itself directly by phone or email.